Every one of us, living in the Orthodox Church, should understand that the parish is not just a group of random people who happen to attend or belong to a certain Church. Rather, we should all think that we are a big parish family and that God put us together so that we can live by the love of God, by the love of the one who wants us to love each other in the same way he loved us. If I ever felt so strongly about us being capable of sharing that love with each other, that was on November 21st , 2021.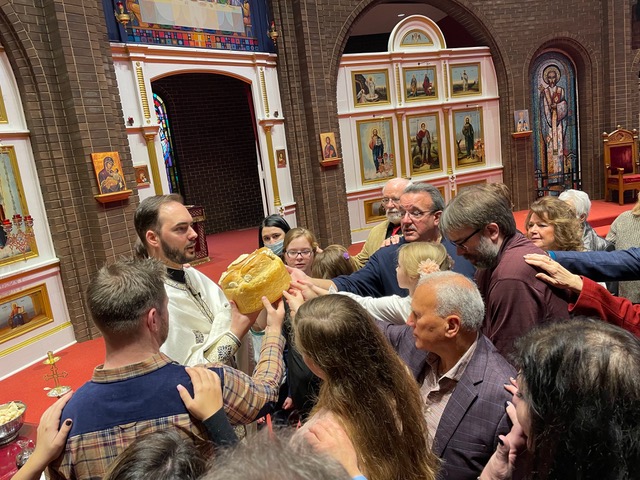 On November 21st , at St. Nicholas Church in Monroeville, we all gathered together to celebrate Archangel Michael in an open-house event. This was not only the slava of the parish priest, this was the slava of the whole parish. We all bonded, laughed together and worked together to make the event possible. I as a priest and father of the parish, could feel love in the air. On November 21st , I did not see a sad face in the parish house nor anything else except the love with which Christ loved and loves us.
When we have sons and daughters, aren't we grateful for them? Absolutely. When we have brothers and sisters, aren't we grateful for them? Of course. I as a father of the parish have many spiritual children who are gathered around me and although there may be times when all of us can act as children in a negative way, nonetheless, I as a father always love those given to me by God. In the same manner, parishioners should love each other as brothers and sisters in Christ. It is only when the father loves that we can understand that we are supposed to love each other but also, it is only when father is loved that he is capable of returning that love back.
I wish that November 21 st can last forever. And it can! If we continue having the same mentality we had on that day. We are all one! Our goal is the same and the path to that goal is the same. We all want to attain to the kingdom of heaven and to get there we follow the narrow path of fasting, Christian virtues and communion. It does not matter how tiring this path is, it is our mutual love and support which will get us to where we want to be.
Finally, to answer the question we started with; What is the parish family ideal:
The parish family ideal is when we all perceive each other as God's divine images and treat each other that way regardless of how annoying we can be at times. When we see that only unity can bring us peace and flourishing. When we understand that everything we start at the parish must begin with the prayer and the divine liturgy. When there is no me and you but only us! When we stop asking what this Church can do for me but rather what can I do for the Church. When our guard falls down and the arms open up to embrace the other. When the priest is the father who gathers spiritual children around himself and not a hireling. When we stop saying parish family and start living it.
And finally, parish family ideal is November 21 st , 2021, stretched throughout the days of our life.
Many years to all of us, parish family!